Background and History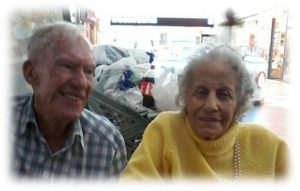 "Tannie Dolly" Smith as she was fondly known, began her journey of caring for the elderly spanning over an impressive 27 years. Starting way back in the 1990's at the age of 59, Tannie Dolly took in her elderly mother to take care of her. As time passed by, requests from other elderly people looking for an affordable place to stay starting coming in, these with mostly just their Old Age Pensions available to them, were taken in by her.
The existing house became too small for the demand and she and her husband Oom Gert, had to build on to the house, this they did by using their pension fund money, donations from the community and businesses and also others who assisted in adding more space to the house.
At the Golden age of 84, Tannie Dolly herself being bed ridden, handed the reigns over to her daughter to continue the work. She called on the assistance of the local community and in 2018 a Management Committee was formed to assist with the running of the Old Age Home. The Home has since been registered as an NPO and PBO. Although registered with Dept Social Development no funding has been received as yet. The Home is solely dependent on income from residents, various sectors, the community and other institutions.
Currently there are 35 residents at the home (maximum capacity 40). The residents consist of a high number of frail care cases, dependant on the assistance of the Caregivers. The Old age home has over the years catered for those people who cannot afford the higher rates at other institutions as their income is limited. As a result of this, they lean on donations from the community, businesses and institutions to make up the shortfall. The basics are covered but when it comes to equipment, alterations and other extra needs that are vital, the Old Age Home is not in the position to make these purchases outright and other plans have to be devised to get by.
The legacy of this Home set by Tannie Dolly has been and will remain to assist those who cannot afford the high rates but still needs the care and well-being to live out their golden years in a decent and respectful manner. We strive to make her wish come true, by relying on the assistance of donators either being individuals or companies to assist us to continue with this work for the elderly. Tannie Dolly since this writing passed away and will surely be missed.
(RIP – 4 March 1934 – 20 June 2019)

Blessed is the society that take care of their elders!